This year has been all about exploring new locations and revisiting some locations I haven't been in years. Since I mainly work from home as a web designer, I can set my own ours and explore whenever I want. It usually allows me to go during the non-busy times, and when the weather is cooperating. But it doesn't always ensure I will walk away with the shots I had wanted.
Heading to the Capilano Suspension Bridge Park
After chatting with Jared at Capilano Suspension Bridge Park, I set up a day to go and check everything out. I was advised to arrive before 10 am as it has been a very busy summer so far. I arrived at 9:20am, and it was already jam packed with people. I made my way up to the VIP Gate and got my pass, then stopped to check out all the really cool pictures and information.
So far so good.. getting all the shots I had wanted, awesome! I made my way past the cool totem poles trying to dodge people along the way and waiting for them to move out of my shot so I could snap a few. Totems- check.
Next stop… the bridge
My intention was to get the iconic empty bridge shot I have seen so many times. I have envisioned this shot for a while now; low down, no one around, and fog in the trees.  No fog, umm ok the smoky haze clinging to the trees would do the trick, oh and maybe a single person in the shot, mid-span. PERFECT.
As I rounded the corner, my heart skipped a beat and then sunk.  JAM PACKED wall to wall as far as the eye could see, people. Lots of people. I knew the chance of me getting the shot was now pretty slim to none. I waited for a bit of a lull and stepped onto the bridge deck and snapped a few shots. People or no people, I wanted a shot.
I stood there for a few minutes watching the people on the bridge. The didn't seem care that other people were in their shots, or that it was busy. They were all having a great time.. or screaming with fright… but still they were making memories.
I could hear the wheels in my head turning full speed, and then it occurred to me; forget everything I had in mind to shoot. Go explore. Go have fun. Go and be a tourist.  After all, it's why I went to the park in the first place.
So I set off..with a new mission. No expectations, just shoot what I saw and what I like.
Next Stop… the Cliff Walk
I walked down the spiral stairs to the cliff walk, and wouldn't you know it, it was empty. Jackpot!
I quickly set up my camera and started snapping.
Empty suspended cliff walk
Shot of me on the cliff walk
View from Cliff Walk
Sweet, everything checked off.. keep moving.
As I slowly made my way from A to B people began to show up, and by the time I was at the end there was a line up of people behind me. I just wanted one last shot of me standing on the platform. I set up my shot, and waited, and waited.. more people showing up. Finally, a nice couple told me to go ahead and they would stop people from walking in front of my camera, YAY for nice people! I took the shot and off I went.
Next stop… Treetops Adventure
When I finally got back to the bridge it was crazy busy. Even more so than before. I snapped a few more shots then started to cross. I forgot how wobbly it is, especially with a steady stream of traffic coming and going. If you are every looking for a great spot  to people watch, standing mid-span on a 450ft (137m) long suspension bridge is your best bet. Between the hilarious comments "I can't believe you made me cross this", "this isn't fun", "OMG this is crazy", and the look of triumph on people's faces, I was still able to snap a few shots of the river and the smoky sky.
Once on the other side your gaze is instantly drawn upwards to the 7 suspension bridges hanging between the evergreens. There is a sign directing you to the various spots on that side of the canyon.  I decided the trout pond would be a good spot to start, and the lighting turned out to be perfect. Seeing this as a blank canvas, I walked around the pond taking shots of things I liked; reflections, paths, trees, bark etc. I had no expectations and it actually gave me a lot more creative freedom to shoot what I liked instead of what I had envisioned.
I made my way to the stairs leading up the to the Treetops Adventure, my eyes instantly drawn to the texture of the giant trees. The bark was different in this spot, worn down and smoothed out by millions of hands touching it, I loved the way it looked wrapped in the netting.
Walking over the first bridge I was able to get some lone bridge shots, and I had success with the next few as well. So I wasn't able to nail the main suspension bridge but I got a few high above the trees which is awesome. I crossed the other bridges making sure I took the time to admire how big each tree was.
I decided to walk around on that side a bit more and check out some of the other paths down to the cliffs edge, as well as the Birds of prey they had located at Raptors Ridge. They had a tiny little badass American Kestral out, they are so damn cute by deadly. Well to the mice and small vermin at least.
After checking out all I could find and stopping for a short break to enjoy the shade of the giant trees above, it was time to head home.
Final Thoughts
As I drove home that afternoon I reflected upon my day. It is all too common that we set expectations for certain situations, and when they don't turn out we feel disappointed. Sometimes you have to stop and give your head a shake. Part of the reason I fell in love with photography was because of its spontaneity. Capturing a moment when it happens, as it happens. Not having a pre-planned expectation of something. And in reality, we could plan until the cows came home and we might never end up with a shot we wanted. Photography is partly luck meshed with a bunch of other variables, and we are usually only able control a small portion of those things involved.
I realized the moment I decided to stop caring if I got the perfect shot and start having fun and exploring, was the moment my day instantly got better. I had a super fun day exploring a place I hadn't been in ages, a place that has changed so much since my last visit. I had a great day.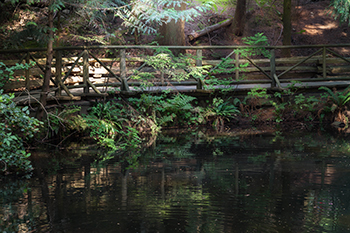 So if you are planning on going, which I do totally recommend you do, make sure you get there early. Go and explore everything in the park. Watch the people crossing the bridge, listen to their comments cause they are hilarious. Go check out the Treetops Adventure and the giant old trees. Watch the trout in the pond, and be on the look out for the resident Great Blue Heron.
You can follow along on my journey here, and on Instagram and Facebook.